Restore the Gleam to Your Headlights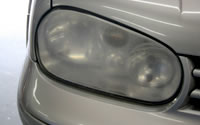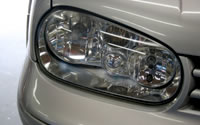 Have foggy headlights? There's no need to get them replaced, and we can help. In addition to specializing in windshield repair, we specialize in headlight restoration, too. Please note that we DO NOT replace headlights.
Headlight restoration involves cleaning, sanding, and polishing your headlight lens to remove contamination. Then applying a clear protective coating to keep your headlights looking and performing like new. Most new headlights are made of polycarbonate, which is more susceptible to environmental factors than glass. Pollution, humidity, acid rain, cleaning chemicals, salt, road debris, and sunlight all contribute to the oxidation of the protective coating placed on the lens by the manufacturer. In extreme cases, the oxidation will completely deteriorate the original protective coating and damage the surface of the lens itself.
What's in it for you?
Speedy Service – Typically our headlight restoration can be completed in two hours or less. A full cure takes about one day. We ask that you don't wash your vehicle for 24 hours after your service to ensure curing of the protective coating.
Eco-Friendly Process – Typical headlight restoration waste weighs less than 6 ounces. A typical headlight replacement generates more than 5 pounds of waste per pair.
Affordable Alternative – When properly executed, your headlights will be restored to the original lighting performance and cosmetic appearance. Much more cost effective than replacing your headlights.
Guaranteed Satisfaction – From customer care to driving your vehicle off the lot, we guarantee your satisfaction and an improvement in your headlight performance.
Quality is Our Middle Name – For more than 35 years, Eugene Headlight Restoration has been serving Lane County vehicle owners with factory-trained technicians and the highest quality products.
Increase Occupant Safety – Restored headlights help you maintain a safer driving environment for vehicle occupants by increasing nighttime visibility.